Medical Transition for Youth with Disabilities
Design Research, Print Design
Fall 2015
"How might we enable youth with disabilities to participate in their medical care?"
In partnership with the Regional Health Literacy Coalition and ACHIEVA, I worked with Hannah Salinas to design a youth-centered guide to support teens and young adults with disabilities in their medical transition. Over the course of 3½ months we scoped the design issue, interviewed stakeholders, ran two focus groups, designed and tested two prototypes.
1. the issue
In the 2001 National Survey of Children with Special Health Care Needs, only 15% of 5,400 interviewees reported receiving appropriate guidance and support in health care transition.
Medical transition is a multi-year process, encompassing not only finding a new doctor willing to accept Medicaid and transferring a pediatrician's knowledge, but also developing a youth's capacity for self-advocacy in a medical setting.
2. Exploratory research
We began by reviewing the literature: what has ACHIEVA already discovered about the obstacles in medical transition and what solutions are they proposing? Many of the issues were policy-related: doctors often aren't trained to work with people with disabilities, Medicaid billing needs to allow for families to try multiple doctors during transition, etc.
In order to gather insights on the human experience of transition, we held a focus group with young adults with disabilities, parents of youth with disabilities, and ACHIEVA staff working to support independent living for young adults with disabilities. We focused on allowing them to tell us about their experiences and wishes in the medical transition process. We then synthesized this preliminary data:
Key Insights
Youth and families are expected to lead the transition
Transition needs to start much sooner
Families are not aware of existing resources for transition
Existing resources are not geared towards youth's use
Youth want to be seen by their doctors as more than a set of medical diagnoses
Doctors for adults have limited time with patients
These insights pointed to the reality that families–not medical providers, schools, or support groups–bear the responsibility of transition. But families lack accessible information, information that youth could understand and use, and youth wanted relationships with their new doctors. This served as the launching point for identifying and doing in-depth interviews with stakeholders.
2. Identifying and interviewing stakeholders
We then interviewed doctors, youth who identified as self-advocates, and a community worker who supports a youth-led program for young adults with disabilities to develop self-advocacy skills. We aimed to gain a broader picture of who is is involved in a youth's transition, and how they see the issues.
We discovered that youth, parents, and doctors all experienced substantial and distinct challenges in the transition process. From these interviews, we created both a stakeholder map and personas.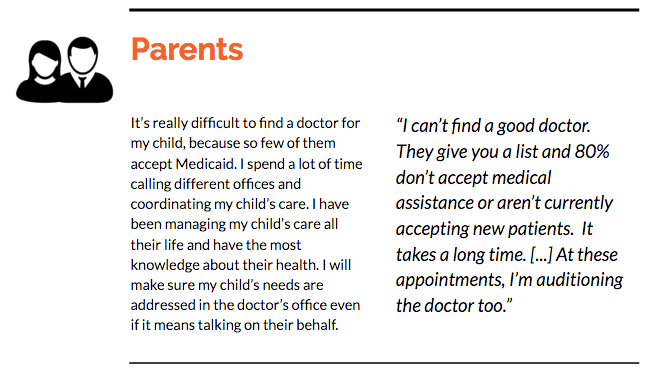 3. the first prototype
Our first prototype was a re-design of a "transition note:" a best-practice discussed in the literature as a set of documents that a pediatrician would assemble about a patient for a new adult doctor. In reality, few pediatricians create transition notes and parents are the ones assembling medical information about their child.
We saw transition notes as an opportunity for youth to voice themselves during the period of transition. By writing to their doctor, youth could convey who they are as a person to their doctor before the nervousness of being in the doctor's office. We created hand-drawn prototypes of a few kid-friendly single sheet documents that could be prepared at home and brought to a new doctor's appointment. We iterated on these with very positive feedback from several healthcare professionals including nurses, doctors, and healthcare advocates.
However, when we presented them to a focus group of young adults with disabilities and their parents, we received a lot of constructive criticism.
Youth did not want to write to their doctor, though the questions were things they wished their doctor would ask them in person. And while we ultimately hoped to provide a means for youth to participate in medical situations, youth gave very incorrect concrete medical information about themselves (ie: which doctors do you see). This meant parents still had to extensively oversee their child as they filled out the form.
4. ARRIVING AT the deliverable
Feedback from our hand-drawn prototype pushed us to re-evaluate our direction. At our core, we wanted to address the need for and lack of kid-friendly transition guides. We also understood that developing a child's self-advocacy skills comes from being able to participate in the medical situation, at whatever level he/she can.
We landed on a hands-on guide to medical transition specifically geared towards youth, incorporating specific items that came up during interviews.
Deliverable Content Overview
Concrete expectations of transition in a conversational tone
Role-playing exercises between parent and child
Thematic health literacy questions for the child to prompt thinking
Business card passport so that youth can manage their doctor's information
Post appointment checklist for every appointment
Badges for achieving different levels of preparedness
Take a look at the final!
5. What's next?
Doctors and health advocates at the Children's Hospital of Pittsburgh are extremely excited about the project, and want to use it with their patients. We're working with the Regional Health Literacy Coalition to move forward to further test the deliverable and iterate.